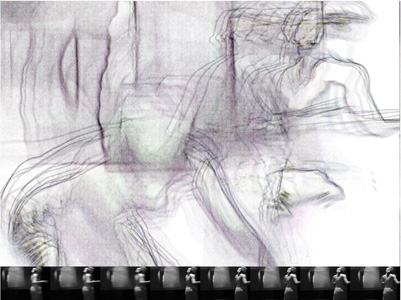 Radical Low :: Music and Video Performance by Kurt Ralske and Chantal Yzermans
Tuesday, December 16, 2003 8 PM
Re-Mapping 4 Dimensions: Three New Works
January-February, 2004
Kurt Ralske is a Manhattan-based video artist and composer. His work is exclusively created with his own custom software, written in C, Java, and Max/MSP, and involves the expressive improvisation of both sound and image, simultaneously and in real-time. Kurt has performed at museums, galleries, and theaters throughout Europe, Canada, and the US, including the Los Angeles Museum of Contemporary Art and the Montreal Museum of Contemporary Art. The New York Times has praised his "compelling, ingenious alliance of sound and motion" and his "technological wizardry".
In February 2003, Kurt received received the Image Award at Transmediale International Media Art Festival in Berlin, for for his work on the DVD "Live in Bruxelles" by real-time video improvisation ensemble 242.pilots.
Kurt works mainly as a performer: as a soloist, with other video artists, with live dancers, or with live musicians. He has created interactive video installations, software art, and video-derived still images. He is the author of Auvi, a commercially released software environment for creating custom real-time video programs.
Online ::
http://retnull.com/