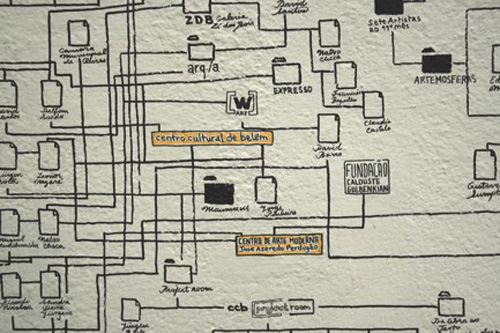 Organizational schemes, networks, interconnection and principles of scale and composition are determinant in Mafalda's work. Expanded drawings on murals or ground works cull their information from computer interface, books and archives to create a simplified imagery that reflects "a moment/place in a mental or social structure of relations." The artist also considers that they offer a comment on the specific context for which the work was produced.
Mafalda Santos received a Masters in Painting from the Faculdade Belas Artes do Porto. She is also founder and co-director of the artist-run space PêSSEGOpráSEMANA in Porto since 2000. In 2007, she will be participating in the Young Artists Award EDP (Electricidade de Portugal). Recent exhibitions include: 2007 – Museum of Contemporary Art MACE, Elvas, Portugal; MUDAM, Luxemburg. She has exhibited at the Calouste Gulbenkian Foundation and is represented by Galeria Presenca, Lisbon.
Mafalda's residency at Location One is supported by the Gulbenkian Foundation and Luso American Foundation for Development.
Hermelinde Hergenhahn & Mafalda Santos
January 30th -February 9th 2008