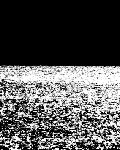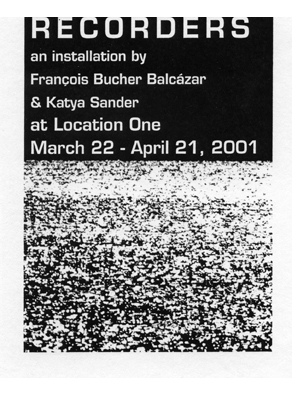 RECORDERS by Katya Sander and François Bucher
March 22 – April 21, 2001

360° Quicktime VR of RECORDERS

Artists' statement:
"Recorders is an installation where a rotating camera and video projector interact with the visitor in a game of shadows and projection, images and text, narration and space, focus and blur. A pre-recorded conversation acts as voice-over for the entire set-up which is encompassed by a large image that resembles something like bits of information, white noise or a glittery seascape.

In this dialogue, two actors, a man and a woman, repeatedly fail to relate an event. The nuances of their relationship; the repeated obstacles in their communication; the interruptions that they undergo; their indecision over the sorting out of significant elements, and a general sense of paranoia, render the task impossible. At certain points they listen to a pre-recorded conversation and try to repeat it faithfully. They go on to switch roles and recite or correct each other's words. The narration is never fully told, only further fragmented by their attempts. The sound of the sea recurs, a sort of erasure of what had been said, a kind of white noise that drowns and reshuffles their words."

Recorders is a collaboration between Katya Sander and François Bucher.

Katya Sander is a Danish artist living and working in Copenhagen. François Bucher is a Colombian artist living and working in New York.


360° Quicktime VR of RECORDERS exhibit.
Click on the image and drag to view movie.