Amos Eno Gallery
Opening Reception: Nov. 1, 2007, 6:00 PM ~ 8:00 PM
Oct. 30 ~ Nov. 24, 2007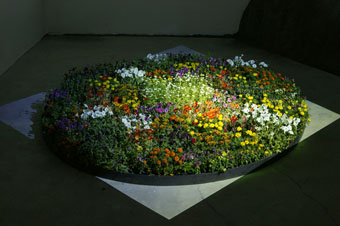 SoYoun Jeong was born in Seoul, Korea.
Since 2004, Jeong has been working and living in New York.
She is an artist working with mixed media. She has been working on video art, installation art, prints, sculpture, photograph and painting.
(From Jonathan Goodman's essay "SoYoun Jeong: Between Fact and Fiction" for "Art Almighty ? SoYoun Jeong".)
SoYoun Jeong is a contemporary artist educated both in Korea and New York.
Jeong has titled her show "Art Almighty," imbuing her exhibition with a cosmic, if not necessarily pious, outlook. The proposals made by her work bring up interesting ideas, in which her predilection for an interface between nature and culture establishes mergers that feel highly contemporary.
In Uncanny Garden, her projection of video images onto two connected walls collapses the length of an entire day into an experience lasting only three and a half minutes. The real flowers inject reality into a fleeting demonstration of extended time. Jeong will transplant the survived blooms into the backyard of a friend from Brooklyn.
The conflict between artifice and reality is expressed as a screen projecting the sun's illumination and an actual garden; however, the final experience is that of survival and transformation: those flowers that continue to exist are planted again in an outdoor field. The experiment is successful in that the process of life continues, even if damage has been done.
Crazy Moon, Jeong's experimental single-channel video installation with four flat monitors, shows a moon dancing in a line or arc that defines itself in relation to the center created by the monitors' display.
The moon on its travels creates many kinds of shapes, the result of its flight across the screen. The monitors approximate the sky, although in a thoroughly non-natural manner. Again we find the ideas of being and seeming beautifully implied in Jeong's imagination; she attempts on a regular basis to join the poetic to the electronic.
In a third piece, Vice Versa, Jeong dizzyingly shifts from digital print to painting and back again. In two small double images, she begins by taking a photo that she then digitizes by scanning into the computer. Then she paints by hand over the print taken from the photo, at which point she scans the painting, printing the newly scanned image. The pictures themselves, striking abstractions composed of massed colors, are beautiful in their own right, but the complexity of their origins lends them a conceptual acuity that is very much of our time.
Jeong articulates a language which is not reductive but which, instead, synthesizes a union between that which is artificial and that which is genuine.
She looks to the future, combining means of expression that are not dialectically opposed but instead mutually supportive.
Jeong had had six solo shows and over one hundred shows. The latest solo show is "CTRL TIME: SoYoun Jeong" (Amelie A. Wallace Gallery, SUNY at Old Westbury, New York. 2007). Her works have been shown at the Museum of Contemporary Art, Shanghai, China, Samsung Leeum Museum, National Museum of Contemporary Art, Seoul, Korea, and Mori Art Museum, Tokyo. Japan, and others…
A reception for the opening will be held between 6pm and 8pm on Thursday, November 1st. The exhibition remains through Nov. 24, 2007. Gallery hours are Tuesday through Saturday between 11am and 6pm.
Amos Eno Gallery
530W. 25th St. 6th Fl.
New York, NY 10001