Virtual Residency Program
blog >>
Call for Submissions
Application Deadline: midnight, April 15, 2009
Dates of Residency: May 15-August 15, 2009
Theme: "Levels of Undo"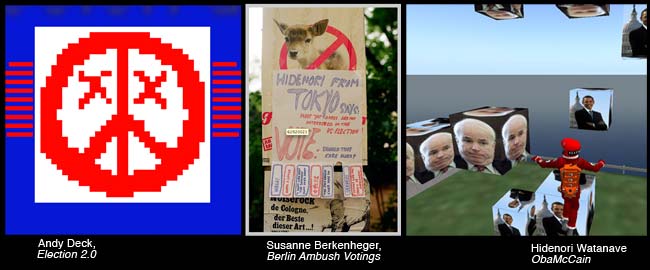 Invitation to Participate
Call for submissions for Location One's "Virtual Residency Project 2.0″. Please send your URL or submit electronic materials to virtualresidency@location1.org.
Location One presents its second Virtual Residency Project in the form of a call to artists and other creative individuals with the purpose of fostering collaboration and creativity across geographical expanses and areas of expertise. The goal of this residency is to find 2 participants who are not physically proximate but who are willing to work with someone they've most likely never met before using some form of non-F2F (face to face) interface such as webcams, email, chat, video, blogs, telerobotic prostheses, Second Life, MIDI, skype, social networks, walkie-talkie, snail mail, mental telepathy, radio, networked video gaming, POTS (plain old telephone service), tin cans on string, or any other means of collaboration to develop a project that will be presented at Location One in the Fall of 2009, either on our web space or in our exhibition space. The theme of this project is "Levels of Undo".
The two participants will also use a blog set up expressly for the Virtual Residency Project to discuss ideas, possible projects and to track the progress of the work. The conversation will be public and open for public comments and will be considered an intrinsic part of the Virtual Residency.
International applicants are encouraged to apply but knowledge of English (to communicate with Location One's Virtual Residency liason) is necessary. The theme can be interpreted as broadly or as literally as the participants would like; the project will be developed collaboratively by the 2 individuals chosen for this residency project, in conversation with a curatorial advisor at Location One (to ensure the feasibility of the project and help with practical and techquestions, not to influence or reject project ideas).
VRP FAQ
What are acceptable forms of submission?
A website that includes CV and work samples is preferable, but you can also email electronic materials to virtualresidency@location1.org by the deadline, April 15, 2009. Please include a few lines describing why you are interested in a collaborative virtual residency such as this.
Who can apply?
Anyone who thinks the idea of working publicly with a total stranger about whose selection you have absolutely no say on a theme that is imposed on you is exciting rather than scary.
If I applied for the last VRP can I reapply?
Absolutely, we had many exciting and qualified applicants for the first residency but we chose the three we thought would make a good team.

Should I send a project proposal?
No, project proposals are not necessary, but a few lines describing why you are interested in this sort of collaboration would be helpful.
What kind of work should it be?
The project will be developed wholly by the participants. Location One will provide curatorial and technical assistance, but the final work will be created "offsite" or online.The final work may, however, have a physical manifestation–this will be developed with Location One's curatorial advisor. Online performance, remote music jam, streaming video, blogs, flash animations, radio transmissions, podcasts, Second Life theatre, iChat panel discussions, remote-controlled MIDI robot kittens acting out the news are all examples of acceptable forms that the project may take. We are leaving the parameters intentionally broad in the hopes that it will elicit deeply creative responses to this topic.
Will there be an exhibition?
Depending on the nature of the work and the availability of the exhibition space at Location One, an exhibition is possible. The first Virtual Residency Project was on exhibit in our gallery space from September 10-November 15, 2008.
Is there a stipend for the selected artists?
Not yet, but we are working on it!
Why do you call it a "residency" if there is no "place of residence"?
(nasally falsetto): "Why do you call it a 'residency' if there is no 'place of residence'". Come on, aren't we past that? Isn't the "placeness" of cyberspace made real by the presence of a community? Free your mind.
What if I do not like my collaborator?
You should have thought of that before you agreed to all of this.
Virtual Residency Project
The first Virtual Residency Project featured three artists from three different countries: Andy Deck (New York, USA), Susanne Berkenheger (Berlin, Germany), and Hidenori Watanave (Tokyo, Japan). They communicated via blog and email and collaborated on an exhibition at Location One in the Fall of 2008. Titled "Mission Accomplished", it featured works by each of the artists that can be seen on our website: http://location1.org/missionaccomplished. The first Virtual Residency Project was an experiment in virtual collaboration that was meant to work out the kinks so that the second would run more smoothly. We have not.