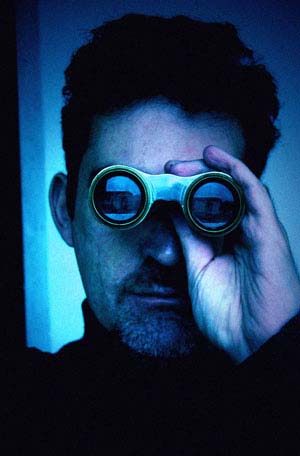 Under Strange Skies :: Public Screening, Wednesday, December 3, 2003 8 PM
Daniel Blaufuks has been showing widely in Europe and works mainly in photography and video, presenting his work through books, installations and set designs.
Daniel Blaufuks – artist in residence, interviewed by Anne Barlow in July 2003His latest work Collected Short Stories can be seen at present at the Fundação Calouste Gulbenkian in Lisbon, displaying several photographic dipthycs in a kind of "snapshot prose", a speech based on visual fragments that give indication of private stories on their way to becoming public. Last year, Daniel Blaufuks finished the documentary Under Strange Skies, a personal tale on the Jewish refugees, who passed through Lisbon during the Second World War. This film was selected, among other festivals, for the Hot Docs Festival in April in Toronto.
website :: http://www.danielblaufuks.com
read an article by Sérgio Mah in Lab 71 :: http://www.lab71.org