June 2nd – July 28th, 2007
Opening Reception: Saturday, June 2nd, 2007 5-7 pm
Exhibition open through Saturday July 28th (Tue – Sat, 12 – 6 pm)
Location One presents the second IRP group show of the 2006-2007 season, featuring new work developed by our resident artists. The exhibition represents a diverse range of artistic approaches and many are works in progress.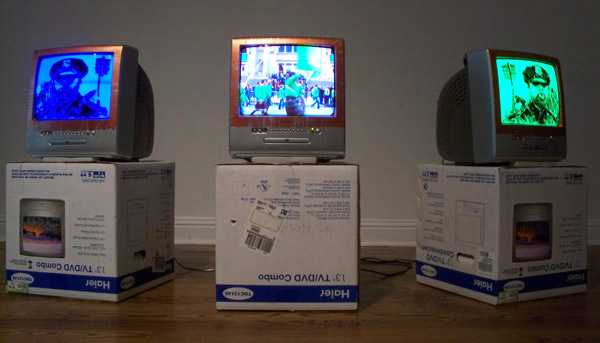 This triptych work addresses Doyle's ongoing interest in the St. Patrick's Day parade and how an event of this nature can segue into militarism. Framed against the entrance to the Metropolitan Museum of Modern Art, the video displayed in the central television features the parade in 2007 as it draws to an end. On the adjacent TVs, the artist has painted the image of a policeman that she photographed as he stuck out his tongue at the 2006 parade. A DVD of a solid color plays behind each painted television, green on one side and blue on the other. This new work reinforces the notion of the rendering of the self into spectacle, the Disney-fication and remote construction of National identity.
Jeanette's residency at Location One is supported by the Arts Council of Ireland and The Irish American Cultural Institute.
Cliff Evans (USA) – Bare life: Booth Girl*s and Stormtroopers: Accumulation
A multi-channel photomontage animation that is presented as an object similar to an altar piece or a product display. It is constructed from an LCD screen and personal media players. It functions as a machine to contain, decipher and display images gathered from online sources. It situates itself within a soft-fascism, producing a baroque spectacle that unfolds and repeats. It, perhaps, is a clockwork meant to tell the time in an age of tech-fetish and availability at a glance.
Cliff's residency at Location One is supported by The Andy Warhol Foundation for the Visual Arts.
Krist Gruijthuijsen (The Netherlands) – Alan (a memoir)
In Gruijthuijsen's body of work, the in-depth investigation of personas such as Alan Abel's underscores the artist's interest in the relation between construction of myth, its process, and the fluctuating role of the contemporary artist. In this film, slow environmental shots of Abel's current surroundings support the voice of the 82-year-old protagonist as he reads a letter that he wrote at age 16 describing his life so far and his future goals. This narration is followed by the reading of his obituary, recalling Abel's last fictional action, when he placed his obituary in the New York Times. Abel's extraordinary career consisted of "invisible actions" –such as Omer's School for Beggars (talk shows on how to beg effectively), or mounting a decency campaign for animal underwear– that question the power of media, but also owe their existence to media.
Krist's residency at Location One is supported by Fonds BKVB.
Ruey-Hsiaan Hsu (Taiwan) – Between
Ruey-Hsiaan Hsu uses mechanical elements as a creative medium, building technically complex and conceptually sophisticated machines. Their motions, which stimulate memories and emotions, are activated by the audience; it is the audience which makes the works complete. In this new body of work, the artist incorporates sound as a means to extend the language of his work.
Ruey-Hsiaan's residency at Location One is supported by the Yageo Tech Art Award of the ACC (Asian Cultural Council).
SoYoun Jeong (Korea) – Natural Strawberry Flavor
This multiple media installation addresses the cute factor phenomenon that is ubiquitous in Korean culture, but also in the rest of the world. The title is derived from feelings of cuteness that can be experienced in the presence of a Korean female of extreme youth, vulnerability and cuteness as she sings cues from the "I like you, I love you " melody in the video. However, cuteness and its appealing attributes are simultaneously paired off with a sense of cheapness, manipulation and exploitation. For SoYoun the specter of cuteness haunts the world, to such an extent that "it tastes like the artificiality of natural strawberry flavor. Thus it is natural for me to catch the ghost."
SoYoun's residency at Location One is supported by The Daeyu Cultural Foundation.
Miguel Palma (Portugal) – Deep Breath
This installation consists of a scale model of a city constructed on top of a platform/work bench. A dark nylon fabric encloses the city, thus making it impossible for the city to be seen from the outside. Three fans installed at the base of the device blow air into the fabric. Attached to the fabric is a micro camera that rises when the fans are activated. The images shot by the camera offer an aerial view of the cityscape and are projected onto a nearby wall. Every 70 seconds the fans are deactivated, the fabric falls, as does the camera attached to it. The image of this rising and falling process recalls a lung membrane under the scrutiny of a scan or an x-ray. The title of the work reflects this analogy.
Miguel's residency at Location One is supported by Instituto das Artes and Fundação Ilídio Pinho.
Bundith Phunsombatlert (Thailand) – English Lesson (Something We Learn From One Another)
This video project is inspired by stories from Bundith's classmates during English classes taken in New York. Bundith recontextualizes elements deriving from diverse nationalities, religious, and cultural points of view in a new "textbook" format of English Language Lessons that have little to do with the more traditional English textbooks. Bundith describes this piece as a collaboration between himself, a few classmates and their English teacher, Ms. A. Smith. It combines stories in which proverbs, idioms, and certain aspects of American culture are employed, as well as personal memories, pregnant thoughts and our hopes for the future. Based on real life stories, this innovative textbook constitutes the basis for conversation and pronunciation.
Bundith's residency at Location One is supported by the Asian Cultural Council.
Jani Ruscica (Finland) – Futurama
The video, Futurama, takes as its focus the New York State pavilion for the 1964 World's Fair. The building, a nonfunctional relic from the past, still stands on its site in Queens as testimony of failed utopias. The Pavilion, designed by architect Philip Johnson, was meant to epitomize all the bright promise of the future, as well as fulfill locally a social function beyond the duration of the fair. Ruscica's video juxtaposes the ambiguity of the structure in its current state to a soundtrack of original newsreel reports from the 1964 Fair. The circular structure of the pavilion is paralleled to the circular nature of fairground attractions, theateramas, dioramas, futuramas.
Jani's residency at Location One is supported by FRAME (Finnish Fund for Art Exchange).
Eric Van Hove (Belgium) – Ecumenopolis

Van Hove's non-linear digital installation consists of some 2000 randomly selected video sequences of 5 to 20 seconds played from a database and generating a hypnotic narrative bound to déjà-vu. The impulse to recompose a fictive city from footage collected by the artist in 45 cities worldwide harks back to the original idea of Ecumenopolis as a single city that is continuous worldwide. This piece also brings forth Van Hove's interest in the writings of Yanagita Kunio, the father of Japanese native ethnology, and his analysis on how earlier and essential layers of national life –custom, practice, and belief– are able to filter through the modern overlays and provide a map for the present. While reflecting on modern digital possibilities, Ecumenopolis, a still life of a sort, relates to other films' attempt to envision the soul of a city, such as Jean Vigo's A propos de Nice, and Walther Ruttmann's Berlin, symphony of a great city.
Eric's residency at Location One is supported by Service culturel, Commissariat general aux relations internationales de la Communauté française de Belgique.
Location One is a not-for-profit organization devoted to the convergence between visual, performing and digital arts in a time of rapidly changing technology. The International Residency Program is a central part of its activities. It encourages collaboration by inviting artists from all over the world, and working in different media, to experiment with advanced technological tools and delivery systems, and to develop new work.